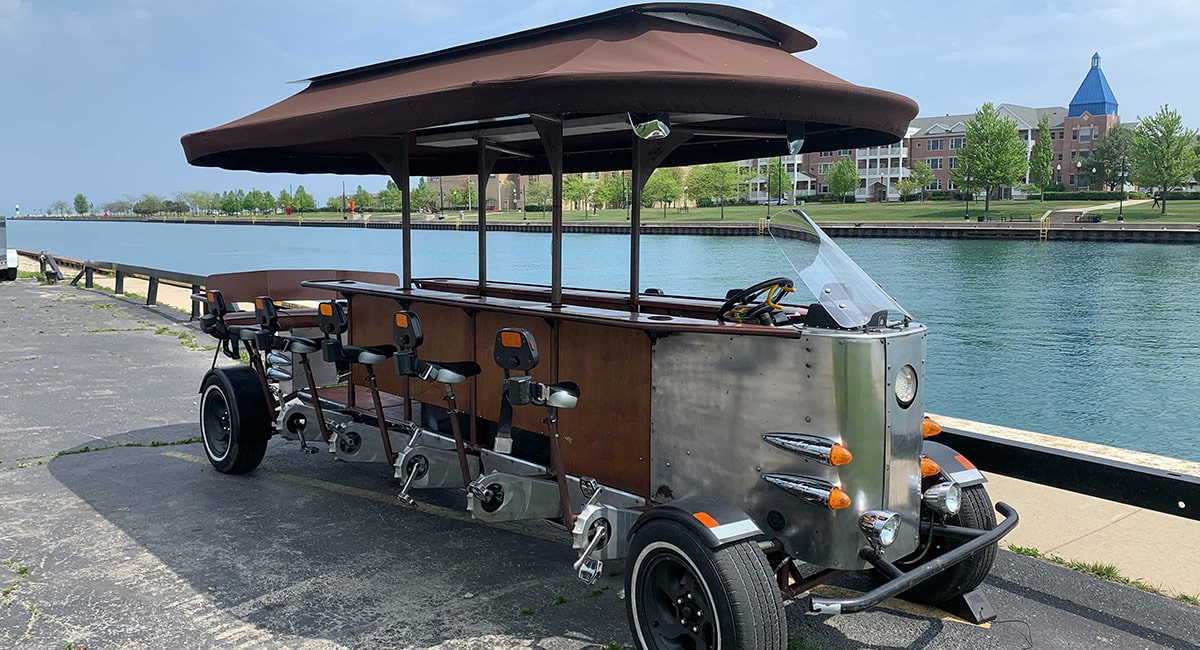 home1
EXPERIENCE KENOSHA
AS YOU NEVER HAVE BEFORE
Lakeshore Pedal Tours
Our 14-person pedal powered, open-air, eco-friendly pedal bike is a party on wheels with a fun and knowledgeable Captain in the driver's seat. Perfect for pub crawls, birthday celebrations, bachelor/bachelorette parties, brewery tours, themed nights out and sight-seeing - the possibilities are endless! A minimum of 6 riders are necessary to power the bike. There are 10 seats that pedal and 4 seats on the bench.
Up to 14 riders
Have the whole pedal party bike to yourself! Our bike tours are the perfect activity for Kenosha sightseeing and get-togethers with friends, family or coworkers. Our private tours of Kenosha are almost two hours long and you can make 3 stops along the way, which are typically 15-20 minutes at each establishment. Since it is a private tour, you and your guests can choose what music to play and where to stop. It's your party on wheels!
Mon-Thurs $300
Friday $375
Saturday $400
Sunday $350
We are offering both private and public ghost tours throughout the month of October.
About our Historical Kenosha Ghost Tours
Downtown Kenosha is a hotbed of paranormal activity, and you will learn all about our resident ghosts and spirits. We will share tales about a sunken ship, haunted historical sites, and mysterious happenings. We will make two bar stops for you to enjoy some "spirits" during our 90-minute ride. Additionally, each rider can bring up to 36 ounces of beer or their favorite fermented malt beverage and snacks to enjoy while on the party bike. We hope you will join our bone-chilling, fun, and information filled tour.
Private Ghost Tour
Get a group of your friends together to celebrate the Halloween season the right way...on a haunted pub crawl. You will need a minimum of 6 people and a maximum of 14 for a private tour. All of our guides are knowledgeable of the the things that go bump in the night and you and your friends will have a spine-tingling great time..
Public Ghost Tour
If you love a spooky experience but don't have enough people to rent out the whole party bike, consider joining a Public Ghost Tour.  You can book an individual seat or as many as you like. We only need six passengers to get the party started! When you book your seat on a public tour, your card won't be charged until the minimum number of riders have been met.  Our tours are always a blast, but our new ghost tours are going to be out of this world (and into another!)
Purchase Private or Public Ghost Tour Rides Here
STAY IN THE LOOP TO KNOW WHEN WE HAVE SPECIAL OFFERS OR EVENTS!
MAKE MEMORIES RIDING A PARTY BIKE
WITH YOUR FRIENDS AND FAMILY!