EXPERIENCE KENOSHA
AS YOU NEVER HAVE BEFORE
STAY IN THE LOOP TO KNOW WHEN WE HAVE SPECIAL OFFERS OR EVENTS!
WHAT IS THAT CRAZY RIG?
It's a 14-person pedal powered, open-air, eco-friendly party on wheels with a fun and knowledgeable Captain in the driver's seat. Perfect for pub crawls, birthday celebrations, bachelor/bachelorette parties, brewery tours, themed nights out and sight-seeing - the possibilities are endless! A minimum of 6 riders are necessary to power the trolley.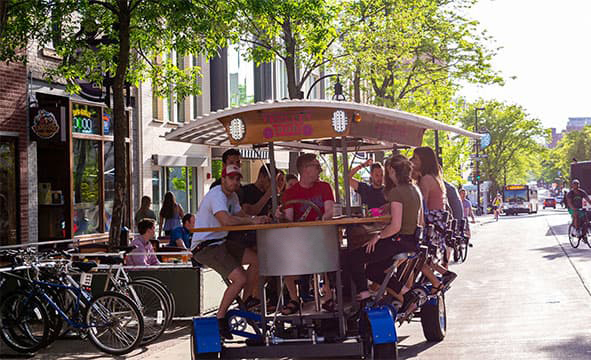 Up to 14 riders
Due to COVID-19, the health department may have capacity restrictions imposed in the 2021 season.
Mon-Thurs $300
Friday $375
Saturday $400
Sunday $350
MAKE MEMORIES RIDING A PARTY BIKE
WITH YOUR FRIENDS!
"Lakeshore Pedal Tours did not disappoint! Captain Nico is the best. We highly recommend!"
-Happy Customer