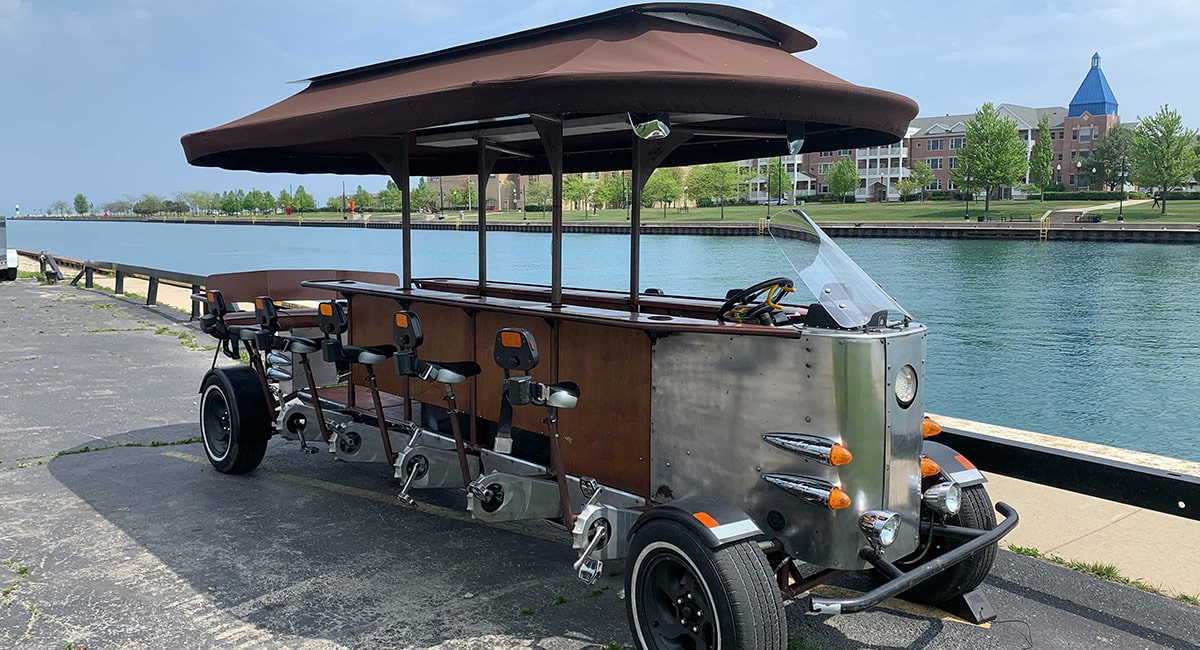 home1
EXPERIENCE KENOSHA
AS YOU NEVER HAVE BEFORE
Lakeshore Pedal Tours
Our 14-person pedal powered, open-air, eco-friendly pedal bike is a party on wheels with a fun and knowledgeable Captain in the driver's seat. Perfect for pub crawls, birthday celebrations, bachelor/bachelorette parties, brewery tours, themed nights out and sight-seeing - the possibilities are endless! A minimum of 6 riders are necessary to power the bike. There are 10 seats that pedal and 4 seats on the bench.
Up to 14 riders
Have the whole pedal party bike to yourself! Our bike tours are the perfect activity for Kenosha sightseeing and get-togethers with friends, family or coworkers. Our private tours of Kenosha are almost two hours long and you can make 3 stops along the way, which are typically 15-20 minutes at each establishment. Since it is a private tour, you and your guests can choose what music to play and where to stop. It's your party on wheels!
Mon-Thurs $300
Friday $375
Saturday $400
Sunday $350
You can be riding for a cause!
Please call or email us to learn about our program for nonprofits.
meet new people on friday nites
or at a wed nite themed mixer tour
Individual Seats
If you don't have enough people for a Private Pedal Tour, are looking for a fun date night, or you like to meet new people, you can purchase individual Mixer Tour seats. Our Mixer Tours are the perfect Kenosha attraction for both tourists and locals! We will customize the route each time based on the riders and requests. If a Mixer Tour does not meet the six-passenger minimum for the tour or the weather is severe, we will  cancel the tour.  Your card will not be charged until the minimum is met. Our tours are always a blast and you will have an unbelievably great time!
Purchase individual Mixer Tour tickets
$30 per person (Wed 6pm or Fri 8pm tours only)
STAY IN THE LOOP TO KNOW WHEN WE HAVE SPECIAL OFFERS OR EVENTS!
MAKE MEMORIES RIDING A PARTY BIKE
WITH YOUR FRIENDS AND FAMILY!